PDF Truck converts Office documents to PDF files.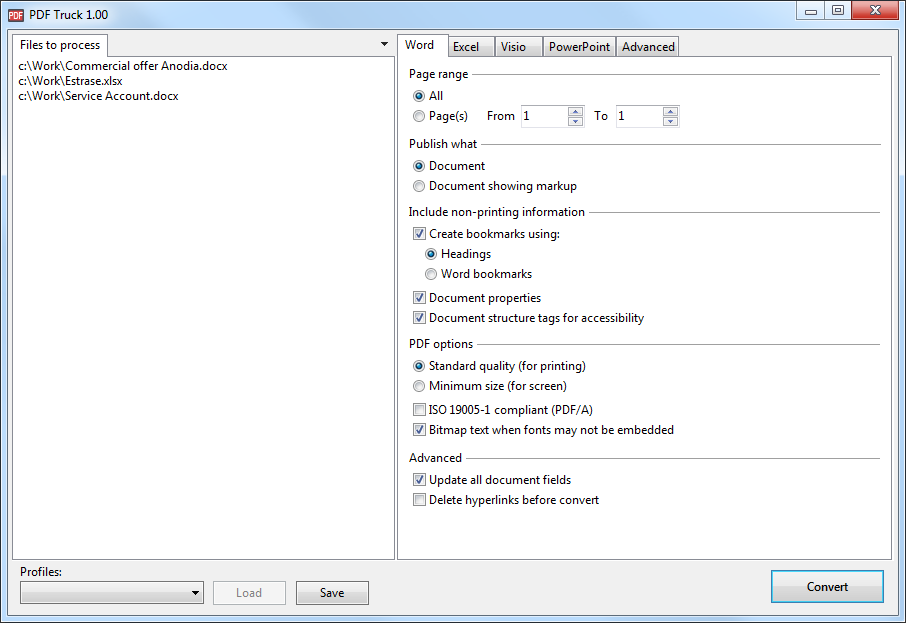 The program works with the Microsoft Office package of applications: Word, Excel, Visio, and PowerPoint. The conversion is carried out directly by these applications, which ensures excellent conversion quality. With PDF Truck, you can quickly and conveniently convert several documents at once by adjusting the conversion parameters for each of the supported formats.
---
Key features
fully free
support for the common document formats Word, Excel, Visio, and PowerPoint
support OpenDocument document formats (OpenOffice, LibreOffice and others)
PDF documents support (merge, encryption, edit metadata)
fine-tuning of conversion parameters
conversion profiles
editing of PDF metadata
PDF encryption and restrictions (permissions for printing, copying text, etc.)
multilingual user interface (English, German, Russian, Urkainian)
low system requirements: Windows starting from XP, Microsoft Office starting from 2010
---
Download
2023-03-11 version 1.00
German translation
improvement work with Visio documents
minor changes
You can also download previous versions.
---
Terms of use
The program is distributed on the Freeware principle, which means that the use of the program for any purpose is free and free of charge, and no guarantees are assumed. The program is offered as is.
Individual users can support the development of the product with a donation. In addition, paid support is provided for companies, including consultations and problem solving as a matter of priority. To contact us, write to us at wyfinger@yahoo.com.
---
News

2023-05-11 Download.com and Softpedia.com added PDF Truck
2023-05-09 the popular resource Download.com published PDF Truck in its software catalog.
Previously, on 2023-03-21 another popular software resource Softpedia.com added PDF Truck to its catalog and published a detailed review.
We hope this will increase the popularity of the product.
---
2023-03-11 version 1.00
Visio Document Conversion has been improved in this release.
When working with Visio drawings, there was a problem that outline tabs in the resulting PDF document were not created correctly. This manifested itself when converting both individual files and several with the result combined into a single PDF document. The issue has been fixed in this release.
Also added translation of the interface into German.
---
2022-09-17 version 0.99
In this version, the ability to work with PDF documents has been added: merging, changing metadata, encryption.
Also added translation of the interface into Ukrainian.
---
2022-01-22 version 0.98
This version changes the behavior of merging bookmarked documents into a single PDF. Previously, the structure of bookmarks could be damaged, some bookmarks could be lost. Now the logic is as follows: in the merged document, a bookmark is created for each individual document and inside this bookmark the entire structure of the bookmarks of the original document is copied.
Also problem with converting opened Visio documents was fixed.
---
2021-07-05 version 0.97
OpenDocument formats support. Add future to rearrange document processing order, its important with Merge output documents to single PDF.
---
2021-05-25 Donation buttons added to the site
Donation buttons added to support the authors and the development of the program.
Payment systems PayPal and Yoomoney.
---
2021-05-17 version 0.96 release
Changes and bugfixes.
Option added to combine all converted documents into one consolidated document.
---
2021-02-10 website launch
Launch of the website https://pdftruck.com
Release of PDF Truck. Now freely available to everyone.
The site is entirely static, and there are, in general, no cookies, trackers, or JavaScript.
---